A couple of months ago I was flying back from the US in economy. I knew that I was going to be uncomfortable and that getting any sleep on the 10+ hours of flights was going to be a challenge. While browsing one the shops at the airport I came across a travel pillow that caught my eye. It looked like it might actually support my neck properly, which a lot of the standard ones don't really do.
The Cabeau Evolution Cool travel pillow retails for $59.99 (and upwards), which is more than I'd normally pay for a travel pillow. However it's a much better quality travel pillow than any of the others I've seen and over the last couple of months it has paid for itself several times over. I've been able to sleep quite well on several really long flights in both economy and economy comfort where normally I'd have had issues and would have got off the plane with neck pain.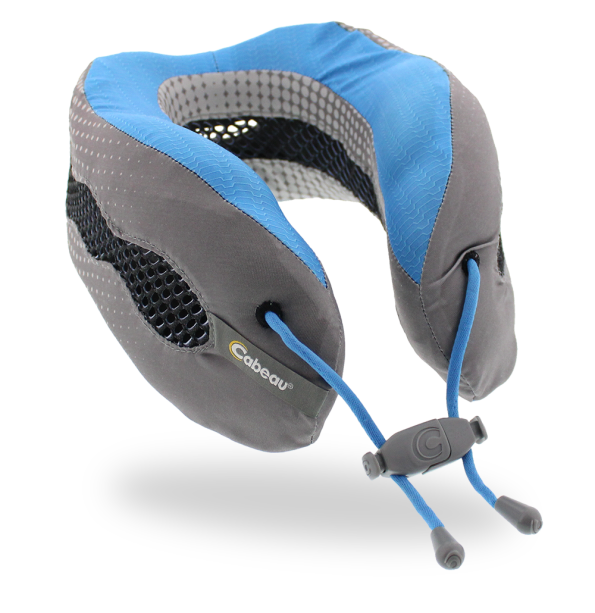 What makes the Cabeau pillow different is three things:
The material (dual density memory foam) is quite rigid and gives proper neck support. A lot of the cheaper pillows are soft and really don't give you any support at all.
It's designed to "breathe" with those air holes throughout. Sure, it'll still get a little sticky at times, but compared to others it's a lot cooler.
The magnetic clasp and draw string work really well. The magnet is very strong, so strong it actually took me a while to work out how to open it!
I also like that the Cabeau folds and rolls up neatly into its carrying bag, which I can then clip onto my laptop bag: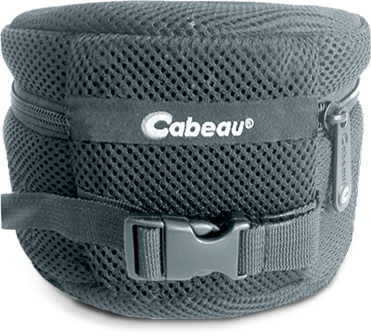 I'll admit I haven't even tried using the earplugs, as I normally travel with noise cancelling headphones and listen to music or comedy to put myself to sleep on flights.
As I mentioned, it's not the cheapest of travel pillows, but if you want to be able to get some rest on a long flight it's worth taking the hit.
You can get the Cabeau Evolution Cool directly from the manufacturer or from Amazon.com or Amazon UK.