Most hotels offer some form of coffee making facilities in their bedrooms. Unfortunately, however, there is very little consistency in what's available. If you're extremely lucky you'll get a Nespresso machine or a Keurig machine. Most of the time, though, you'll be lucky if you get instant coffee.
If you spend a lot of time on the road and like good coffee then relying on what the hotel offers in your room is probably not the way to go.
So what can you do?
Since a lot of hotels do offer a kettle of some kind then a good option is an Aeropress. It's cost-effective and pretty easy to use.
Here's what you get: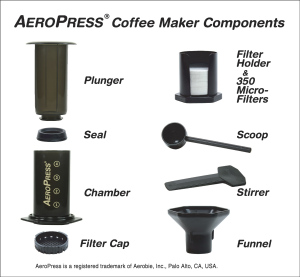 The Aeropress makes really good coffee and, most importantly, doesn't take up much space in your suitcase. You can easily put your Aeropress in the bottom of your bag with a bag of ground coffee.
So as long as the hotel room has some way of heating water you'll be all set!